Hikers and campers are very proud of their activities and like to express their desire to be out hiking or camping. With these 11 awesome hiking stickers, the hiker in your life can express their passion for hiking and being outdoors.
I love that decals can express so many feelings. They can be cute or funny, focus on a goal or celebrate success. Sometimes they are just really pretty and a reminder of a really beautiful hike or experience. They can be added to walls at home or work, onto laptop sleeves or phone covers. They look great on car windows, bumpers, trailers and rvs. They make perfect Christmas stocking gifts or add a personal or fun touch to a practical hiking gift.
Here are some of my favorite hiking stickers:
Hiking Stickers for Car Windows and Bumpers
Click here for More Info OR to Buy
These high quality stickers are made by Gorilla Decals in New Mexico. Their sizes range from 6 by 6 inches to 8 by 6 inches. These stickers are durable and water resistant and should last for up to 7 years. They are ideal for any smooth surface like a car window or a laptop.
More Info
This popular car bumper sticker is 9 inches by 3 inches big and is made in the USA.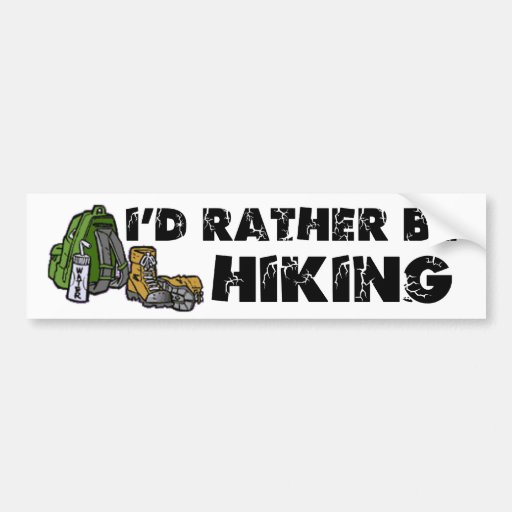 Get More Info OR Buy at Zazzle
This 100% weatherproof bumper sticker is 11 inches by 3 inches big.
It is made from durable vinyl and printed with water-resistant ink.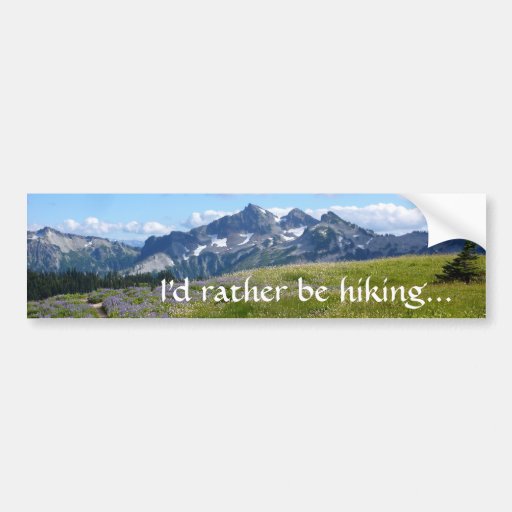 Get More Info OR Buy at Zazzle
This 11″by 3″weatherproof decal reflects a beautiful hiking scene.
This 7″by 3.75″ shows a hiker who loves hiking and whose health depends on hiking.
GET IT HERE
This popular 8″by 3″ hiking sticker gas a sharp and cool message.
This stunning 8.5 inch by 4.25 inch hiking sticker is available in a number of colors.
Funny Wall Hiking Decal
This wall decal is available in three sizes – 12″ by 12″, 30″by 30″and 48″by 48″.
It is printed with premium eco-solvent ink on self-adhesive fabric paper.
They can be removed up to 100 times as no glue is used in their application.
Hiking stickers are interesting gifts for anybody who loves hiking and want to reflect their passion in their car or home.